Salem Supply
Small business spotlight: Salem Pet Supply navigates uncertainty with pawsitivity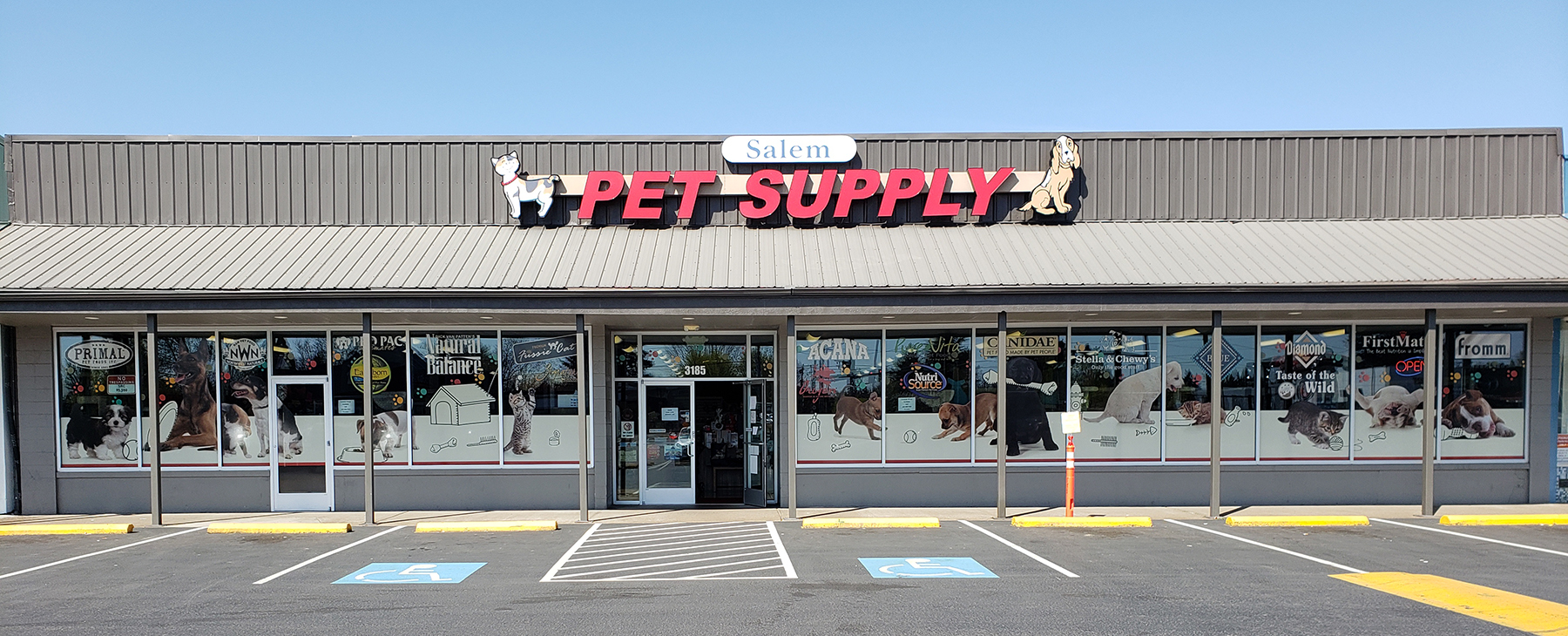 Kristine and Mark Tiersma opened Salem Pet Supply in 2007, with a second store following in 2011. With the motto "for the health of your pet," Salem Pet Supply offers natural, healthy pet food. Customers can also find toys, clothing, feeding bowls, beds, and much more. We asked Kristine how she kept her business healthy during the COVID-19 pandemic.
How did the pandemic affect your business? 
Adapting to the virus was a challenge, especially at the beginning when regulations weren't clear and could be left open to misinterpretation. We spoke with our legal team weekly to help us correctly interpret new mandates and guidelines.
As an essential business we never completely closed, but we did need to adjust our hours. To communicate with our customers about the changes, we relied a lot on social media and our website. We posted government mandates and OHA information on our doors, and we made a sign that says, "We are here for you so please wear your mask for us." All the employees signed their names, so it had a personal touch.
Like so many other businesses, we developed a curbside service, so customers didn't need to come inside to pick up products. People could call in their order or an employee wearing nitrile gloves would bring a wireless credit card reader to their car. We've been working on our website, so customers should be able to shop online soon.
For customers who did come in, we offered hand sanitizer and masks. We also wore masks and gloves, and we cleaned and sanitized everything hourly.
Financially, it was a challenge. Fear of the unknown made decisions difficult. We wanted employees to have full paychecks, and it was disheartening wondering if we were going to be able to keep our doors open. Ultimately, we prevailed without much damage and business has been back to normal levels the last few months.
How did it affect staff? 
It was an emotional adjustment. Staff faced the stress of not knowing what was going to happen to them, their jobs, their community, and their loved ones. We tried to make the workplace a positive environment where they could feel safe and appreciated, but it wasn't an easy task because emotions were running high.
How did it affect customers? 
This was and is the most difficult part. It's gotten better, but people still can get angry about wearing a mask, especially as the guidelines were redefined a few times. We found that saying "Did you remember your mask today?" or "May I offer you a mask?" instead of "Put on your mask" goes a lot further in terms of keeping the peace. But for the most part, people are gracious and willing to comply.
If customers have a condition that prevents them from wearing a mask, they can use curbside pickup or make an appointment to come in when only employees are in the store. 
What were the most difficult parts of adapting to the pandemic, and what, in hindsight, do you wish you'd done differently? 
The most difficult thing was dealing with all the different daily stresses while remaining in control of the situation. I honestly don't know what I would have done differently. We adapted. It wasn't easy, but we did it!
Will you use any of the new approach and practices after the pandemic is over? 
We'll clean and sanitize everyday items like shopping carts, countertops, and doorknobs. It's a good idea during any flu season.  
What advice would you give business owners trying to adapt to the pandemic? 
Take care of your employees-they're the lifeblood of any business. And be willing to adapt to circumstances. Whether it's a pandemic, recession, or act of God, be flexible to change.